This is the first necklace I've listed in my shop on Etsy. I'm really pleased with the way it turned out. When I first received the Strawberry Pendant, designed by
Bethany Cooper
, I wasn't sure what I was going to do with it. Luckily, I found the perfect beads to accent it at a local bead shop. They are a perfect match and it truly looks like the pendant and the beads were made to go together.
I'm planning on adding another necklace this week, the colors will be very different.
For more of my work, please visit my shop on
Etsy
.
posted by Winifred | Permalink | |

As a little girl I used to love to make daisy chains to wear as a crown, a necklace or bracelet. Give this as a reminder of wonderful, lazy summer afternoons which go by way too quickly! As a bonus this bracelet is guaranteed not to wilt as twilight looms.
Daisy, Daisy,
Give me your answer do!
I'm half crazy,
All for the love of you!
It won't be a stylish marriage,
I can't afford a carriage
But you'll look sweet upon the seat
Of a bicycle made for two.
posted by Winifred | Permalink | |

This bracelet reminds me of springtime in Paris. I'm pretty sure when you wear it you will feel like you're on the Champs-Elysees walking a very snazzy black poodle and wearing the perfect pink Chanel suit! Try it and see if I'm right -- what have you got to lose? For more information on this bracelet please see my shop on Etsy.
My interview with Alicia is posted and ready to read, please visit freelance.work.net. Hopefully I don't sound too dippy!
posted by Winifred | Permalink | |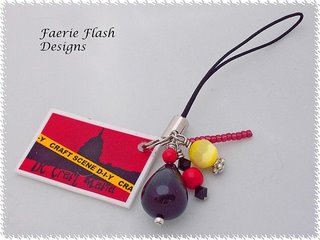 We've got some new members and I'm making charms for each of them. The DC Craft Mafia logo is made using an inkjet printer and Shrinky Dinks! I'm really thrilled with the results. All of the other charms are made using an assortment of beads: Swarovski crystals, vintage Lucite beads, cat's eye beads and seed beads. The new members can use the charms to identify cell phones, iPods, MP3 players, purses & totes and zippers. The uses are endless. We have a meeting Saturday night and I can hardly wait to share. To find out more about the DC Craft Mafia please visit our
site
.
posted by Winifred | Permalink | |

I just finished this charm and it is very funky and fun charm. The color is copper or some people might call it cognac. It is fun and would look great on an iPod or cell phone. Plus these are a great idea for helping you to identify your stuff when you are out and about with friends and family. My husband and I have identical cell phones and it is way too easy to grab the wrong phone! This would make a great end of year present for a teacher. In fact, I think I'm going to make a couple for my daughter's teachers. For more information please visit my shop on
Etsy
.
posted by Winifred | Permalink | |

A friend asked me to make a name bracelet for her and it inspired me. I created this bracelet with a bride in mind, but it could be for anyone. The colors could be changed for the person or event.
I think these would also make terrific Bridesmaid's Gifts -- the Bride could request Swarovski crystals and pearls in the colors of her wedding. These would be a wonderful memento to remind the women of a very special day.
This bracelet is available for sale, please visit my store on Etsy.
posted by Winifred | Permalink | |

The design of this bracelet is a departure from my usual stuff -- there's nothing sparkly! It just came to me the other day and I had to create the bracelet or it would have driven me crazy. When I get an idea it rattles around in my head until I do it and then I can move on. I made this bracelet using sterling silver and Swarovski glass pearls in rose. This is a great bracelet for everyday wear -- casual but fun.
posted by Winifred | Permalink | |